Accommodation, Self catering en Haut-Rhin
Add to my travel notebook
Register your touristic spot en Haut-Rhin it's free (in French)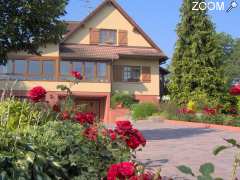 TVORG-752351
Update informations
Low season of 235€ to 260€

High season of 290€ to 400€
Disponibilités
GROSSMANN Dominique
25, rue de la gare
68520 Burnhaupt-le-Haut (Haut-Rhin)

http://locationdutilleul.perso.sfr.fr

gites.locationdutilleul@facebook.com
We built 2 cottages in extension of our property with a separate entrance and a private terrace closed.
Possibility of access to the internet (hotspot sfr). Our two cottages are fully equipped: bathroom, kitchen and bedroom. Outdoors: each cottage has a terrace with private garden, barbecue and pool are common.
Private and closed parking. All amenities (shops, hairdressers, Bank, post office, 5 restaurants) are in the village. Things to do on the spot: Starting Point for numerous hiking: trails and bike paths.
GOLF and Equestrian Center within 10 kms. By car, you are about a half hour from Colmar (typical city), Eguisheim (most beautiful village of France) Mulhouse (technical museums), Belfort (famous Lion of Bartholdi), Montbéliard (castles and parks), Villers Lake (jump of the Doubs), Basel (Switzerland) and the Germany.
Several lakes are nearby: Lake Malsaucy (Marina and beach), Kruth-Wildenstein Lake, Lake in Michelbach (observation of many species of migratory birds). Leisure in the vicinity:
Park Zoological and botanical Mulhouse, monkey mountain, Eagle of the Eagles, Castle of Haut Koenigsbourg...
We accept holiday cheques.
Register your touristic spot en Haut-Rhin it's free (in French)