Patrimonio da  visitare , Città e paesi en Bas-Rhin
Aggiungere al mio Carnet
Iscrivere il vostro punto turistico en Bas-Rhin é gratuito
Alloggiamenti in prossimità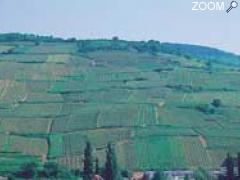 TVORG-2335
Modificare la scheda
Disponibilités
Visite.org
67000 Strasbourg (Bas-Rhin)
Over the centuries, and just like the countryside it winds its way across, the Alsace wine region has progressively increased and enhanced its own natural advantages.

Its geographic situation, at the junction between Germanic and Roman influences, tells its own
story : a culture dating from the Roman era, revitalised by Merovingians and Carlovingians who consumed great quantities of "this stimulating wine that makes you happy".By the end of the first millennium, 160 Alsace villages were already growing vines and, by the Middle Ages, the wines of Alsace were among the most highly prized in all of Europe.Winegrowing in Alsace reached its zenith in the 16th century. This period of prosperity was brutally interrupted by the Thirty Years' War (1618-1648) which devastated the region. Pillaged, depopulated and ravaged by disease, all commercial activity declined dramatically.
The re-birth of Alsace viticulture came three centuries later, after the First World War, when winegrowers adopted a policy of "quality first" and decided to produce wines only from the traditional, high-quality grape varieties.From 1945 onwards, this policy was reinforced by delimitation of the vineyard area, and by strict enforcement of production and vinification legislation.
Vedere altre proposte di alloggiamento...
Iscrivere il vostro punto turistico en Bas-Rhin é gratuito